Therapeutic Resource Model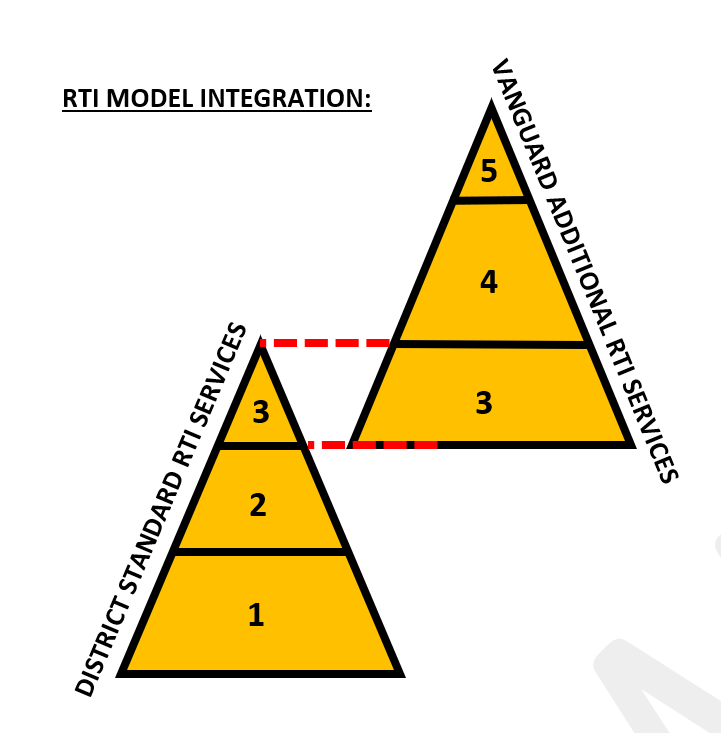 "All Vanguard students are expected to work toward becoming giving leaders… and it starts in every classroom."
What do we do differently as a Type 3 Alternate Program (Tier 4 and 5)*?
*This is a "draft" statement for our specialized staff to further focus on intervention areas… we published it for the purpose of collaboration and feedback from our community.  As we are aspiring to get better everyday, please let our staff know if the below descriptions need clarification or further development.
Tier 4* Interventions:
Restorative Academic Teachers
differentiated large group instruction with trauma sensitivity/awareness
differentiated small group restorative education and restoring the educational self-identity
A.P. (General Alternative Programming – learning gaps) focused small group instruction in collaboration with resource team
individualized "real-time" formative learning assessments and feedback
weekly previews and debrief with designated Resource Specialists around adaptations/modifications
regular participation in School Based Team
is primary communication contact with class roster families (Parent/Guardian) when child is at risk of failure or in need of additional academic supports
Tier 5* Intervention
Therapeutic Extensions – Block 3
This block is intended to rebuild the trust students have lost in adults
Restorative Resource Teachers
Individual Education Plan/Student Learning Plan (supplementing Community Care Plans)writing and interdisciplinary meeting coordination with trauma sensitivity/awareness
Add supplemental "trauma sensitive learning" information
focused small group executive function and G.A.P. instruction
helping create individualized "real-time" learning assessments
case manage academic transitions for intake students with therapeutic team.
inclusive "classroom" based interventions and

subject based resource differentiated

strategy support
facilitation of any course challenges and gifted support coordination
Literacy Intervention Special Education Assistants
support the student's education goals connected to their Individual Education Plan, G.A.P. and executive function interventions with trauma sensitivity/awareness
connections with students developed through collaboration of Resource Team
Collaborate with staff and implement strategic intervention based on student need.
Outreach and Transitions Program and Interventions
Vanguard Secondary's Restorative Resource Outreach Team offers a short term blended program for a limited number of Vanguard students. The primary purpose is to support students who:
are currently enrolled at Vanguard Secondary who have significant barriers to full-time attendance with hopes of returning in the near future (within a couple of months or next semester).
are currently enrolled at Vanguard Secondary who are needing support in accessing community supports with intention to Transition into post-secondary or career programs.
To be enrolled in the Outreach Intervention, students must be enrolled in Vanguard Secondary and must be recommended by the Vanguard School Based Team.
All applications can be forward to Vanguard Secondary's Restorative Team Leader Mindy at mjanzen@sd35.bc.ca.
Additional Transition Programs
Grade 8/9 Transitions Cohort
Specialized in helping students overcome obstacles to success in school, developing skills to stay in school and build school relationships. The focus is on building self-confidence and a sense of belonging to our school and community culture. Much of this work is done off property at the "Fun Farm" with therapeutic animals and other community venues.
Grade 10-12 Restorative Education Cohort
This program is to get students "future ready" and rebuilding their trust toward education and schools. Students will learn about thinking errors and focus on emotional regulation. The goal is to address student learning needs (gaps) and school credit recovery through academic assessments (as needed).
Grade 12 Adult Graduation Career Cohort 
The program focuses on community career access points and focuses on reducing barriers to employment. Students gain real world skills and explore career options while working on completing Adult Graduation (Dogwood) requirements (on-site and with District partners). Most students are supported in attending community employment programs (some with graduation credits). An Outreach teacher will collaborate and assess portfolios and learning.